Pavement Preservation Can Save Serious Money
Pavement preservation is the proactive maintenance of asphalt by applying proper treatment at the right time. The diagram below shows the typical life-cycle for pavement. The curve shows that as the pavement condition worsens, the treatment costs increase. Preventative maintenance costs are far less than the ultimate repair costs. By applying cost-effective preservation treatments to your asphalt, you can extend the life of your road and save valuable budget dollars.
Whitaker Contracting proudly offers several pavement preservation products to aid you in preserving your asphalt including crack sealing, micro surfacing, and HA5.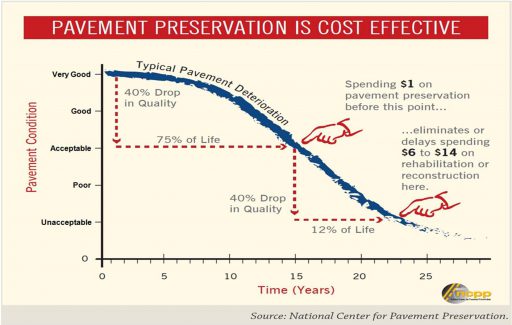 WHAT IS MICRO SURFACING?
Micro Surfacing has been a reliable pavement preservation tool in the United States since the 1980s.  It is a high-performance slurry seal that extends the life of pavement by combining a polymer modified asphalt emulsion, water, mineral fillers, and dense graded fine aggregate.
Benefits to you:
Cost-effective pavement preservation application
Quick traffic turnaround
Designed to be used on moderate to high volume roadways
Corrects minor cracks and wheel path rutting
Increases the skid resistance on the pavement surface
WHAT IS HA5?
HA5, manufactured and installed by Whitaker Contracting, is a High Density Mineral Bond developed to meet the demand for effective asphalt preservation on roadways without the negative side effects of chip seals or slurry seals. HA5 contains a non-ionic emulsion specifically engineered to carry mineral types that are not compatible with anionic and cationic emulsions.  Additionally, HA5 has a revolutionary blend of ultra-dense and angular-shaped fine aggregates as well as a combination of specific polymers to combat oxidation by resisting moisture and deflecting ultraviolet (UV) rays.
Benefits to you:
Significantly extends pavement life
Lower cost of pavement ownership/management
No loose aggregate or grainy residue on the surface post installation
400% Less cracking
Performance backed by seven year study
High public approval
Millions of square yards installed across 25 states
Installations guaranteed up to 5 years
Due to the asset preservation qualities and durability of the installations, HA5 is also a preferred surface treatment by owners and managers responsible for asphalt parking surfaces such as school districts, religious organizations, medical providers, and other business that own asphalt.